Fire Departments Resources
The Perry Township Fire Department is a combination Department consisting of thirteen full-time and sixty part-time Firemen and EMS personnel. Perry Township has three Fire Stations that provide quick response and support for our community.
Our Fire Department covers approximately twenty-four square miles, and a population of 29,000 which makes up Perry Township.
We provide the following services, but not limited to the following; Fire Suppression and Prevention, EMS includes emergency ambulance transport, Education Programs, New Business construction and renovation planning review, Inspection of business includes Health Care Facilities, Day Care Centers, Schools, Churches, and also Fire Investigation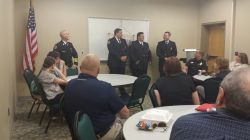 FIRE DEPARTMENT MISSION STATEMENT
It is the mission of the Perry Township Fire Department to provide prompt, professional and dedicated service to all who live in or visit our community. We will provide this same level of service to other jurisdictions when called on for mutual aid.
By working in concert with our residents, schools, businesses, and local organizations we will make Perry Township a safer and more desirable place to live.
Perry Township Fire Department
440 Canford Ave.
Massillon, Ohio 44646
(330)833-3865
Perry Fire Chief
Larry Sedlock
lsedlock@perrytwp.com
Deputy Chief of Operations
Pending
Fire Administration Assistant
Penny Lorenz