Police Departments Resources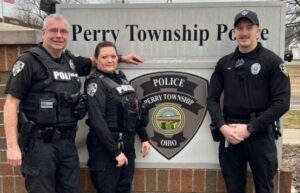 In addition to routine police services, the Perry Township Police Department also provides the following special programs:
D.A.R.E. Program   
D.A.R.E. is a highly acclaimed, police officer-led series of classroom lessons that teach children how to resist peer pressure and live productive drug-and-violence-free lives. The program emphasis of D.A.R.E. is to help the students recognize and resist the many subtle pressures that influence them to experiment with drugs, gangs and violence. In addition, program strategies are planned to focus on feelings relating to self esteem, interpersonal and communication skills, decision making, and positive alternatives to drug behavior.
For more information on the D.A.R.E.  Click Here
School Resource Officer Program 
The S.R.O. Program puts a police officer into the Perry Schools. While in the schools, the S.R.O. assists the school staff in maintaining a safe, structured learning environment. The S.R.O. is available for counseling with the school staff, parents and students. The S.R.O. will also visit classrooms and teach students about law enforcement and community responsibilities.
Creating a safe place where students can learn and grow depends on partnerships among students, parents, police, and other community agencies. To prevent school violence, we must find out how crime threatens schools in Perry Township. We must take actions to protect children and promote nonviolent ways to manage conflict.
For More information on the S.R.O. Program Click Here
Crime Watch Program
Crime affects the entire community- families, churches, schools and businesses - and draws no lines between race, creed or color. With crime increasing, how can you reduce your odds of being a victim? How can you, along with your neighbors, work more effectively with the police to improve the quality of life in your neighborhood? One method is through neighborhood Crime Watch.
Crime Watch is a crime prevention that enlists the active participation of all citizens in cooperation with the police department to reduce crime and criminal opportunity in our community. Crime Watch encourages residents to become more aware of potential problems wherever they might occur as they attend normal routines each day. Neighborhood Crime Watch members are the eyes and ears of the police department.
Crime prevention is everyone's business, and involves more than just home or business security. Crime prevention is the central theme of your police department, but it requires cooperation from all segments of the community. By working with the neighborhoods and recognizing their individual concerns and problems, we will be able to assist in educating the community better and tailor responses that will improve the quality of life for everyone.
For more information, you may call the department or e-mail for information..
Public Speaking 
The Perry Township Police Department welcomes the opportunity to interact with the public so we may gain new insights into the needs of the community. If requested, the police department will schedule an officer or representative to speak at neighborhood meetings, for civic organizations, youth organizations, etc.
For more information, you may call the department or e-mail for information.