Police Departments Resources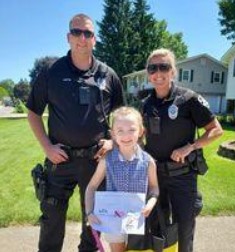 The School Resource Officer Program began with the intent to improve community relationships by participating with students in a non-confrontational setting and working with faculty and parents in the educational process. This is done by establishing rapport with the students and being available for them when they have questions or concerns, by establishing programs in concert with the school administration to address safety and security issues as well as educational programs and by acting as a counselor/mediator for the parents as well as the students.
Some activities of the SRO include:
First and foremost the SRO protects and promotes the safety of both the students and staff.
Address crime and disorder problems on campus by taking enforcement action when necessary; however, they will conduct investigations as needed, but will focus on prevention.
Meet with consultants and research new innovative ways to make each building safe.
Regularly conduct emergency drills.
Follow-up on investigations that are forwarded from the patrol division.6. Attend extra-curricular activities held on campus when possible.
Teach law-related educational topics to government classes.
Work with Dare Officer in police department's summer camp, known as P.R.I.D.E (Police Reinforcing Important Decisions and Education)
It is a privilege to introduce you to Officer Letta.   Officer Letta has been with Perry Township Police Department since July of 2015. He is currently assigned as the School Resource Officer (SRO) for Perry High School. Officer Letta comes to us from Canal Fulton Police Department where he was previously employed. While at Canal Fulton Police Department he was assigned to the road. Officer Letta graduated from Tallmadge High School in 2009. Officer Letta then attended The University of Akron and graduated from there in 2013 with a bachelor's degree in Political Science and minors in Criminal Justice and Homeland Security. Officer Letta finished his education at Kent State University where he obtained his OPOTA (Ohio Police Officer Training Academy) Certification.